Gorgeous Jewels is all about Style, Selection & Quality! We offer customized Greek Paraphernalia for 


Sigma Gamma Rho Sorority, Inc., 


Zeta Phi Beta Sorority, Inc., 
Alpha Kappa Alpha Sorority, Inc.,
and other Greek letter or national organizations.
Our goal is to offer a variety of Gorgeous gifts and options at reasonable prices to make our clients feel more than satisfied. Gorgeous Jewels crafts top quality Greek jewelry, pins, pearls, bags,, t- shirts, blankets, watches, throws, accessories, scarves, bracelets and more original handmade items- uniquely designed and exclusive to the market. We have reached hundreds of Divine 9 members, Churches, Schools and Events across the Nation, the Islands and in several countries!



Gorgeous Jewels is a leading provider of Greek Paraphernalia & Jewelry and focused on satisfying our clients. We are committed to outstanding service and delivering new products to the market. Our owner has a background in Marketing from Hampton University and previously worked in national sales roles across the country including New York, North Carolina, South Carolina, Iowa and Chicago. Before receiving her award as Summa Cum Laude in Spring 2006, she had a complete bowling scholarship from the institution formerly known as the Hampton Institute, founded in 1868 in Hampton, VA.  Xerox Corporation, SeatonCorp, and   JP Morgan Chase Bank are just a few of the companies she has served. Since a little girl, she had a passion for creating new trends and marketing those ideas. From selling lemonade, to canvassing UPS products across Schaumburg, IL neighborhoods to business owners and store fronts, she has been a leader in delivering exceptional service and commitment. Our designs are exclusive and proprietary. We hope that you love GORGEOUS JEWELS just as much as we do!
We welcome your feedback anytime, just send us an email from the Contact page.  For years, Gorgeous Jewels has maintained a goal of constant Innovation and exceptional Creativity to mold, design and manufacture New Gorgeous items from start-to-finish. Every item was designed in mind for you to Love and adore!
Access the Gorgeous Jewels online store today to find the right paraphernalia for you, your friend or a future member. Whether you are searching for something discreet or eye-catching, you're in the right place!  Gorgeous Jewels can customize your next gift for 10 or 100,000 members for the next upcoming induction, convention, ceremony, recognition event, fundraiser or giveaway! Just tell us about your event so we can help you today!
Here are a few EASY GIFT OPTIONS-
**Custom Scarves- 50 Qty or More to order!
*Custom T- Shirts- 40 or more to Order!
*Custom Bags-100 Qty or More to order!
*Custom Pins-25 Qty or More to order!
**We can customize any gift for you or fundraiser initiative item to get your goals on the move!
Gorgeous Jewels offers a  standard of FAST Priority Shipping for all of our clients around the world and a FREE Customized Card Service for any Birthday Gift or Secret Soror gift order upon request.
Just imagine how happy and surprised your friend, Soror or loved one will be once they receive their new Gorgeous Jewels Complete Gift Package!*** We make it so easy for you to shop anytime, from anywhere, anytime of the day or night and we'll do the shipping for you to save you valuable time & money!
Contact Gorgeous Jewels today about your regional goals  and see how GJ can offer a competitive option for your upcoming event. Gorgeous Jewels would be happy to work with you and set your ideas in action!!  GJ can craft pins, jewelry sets, stationary, t- shirts, lanyards, door prizes and more! Our expertise will assure you a new Gorgeous Item that you will most certainly LOVE or your money back!
Love #GorgeousJewels!
Shop Gorgeous Jewels on Facebook

Contact us today to Learn more! 
Our Commitment
Gorgeous Jewels strives to maintain and grow our clients thru leadership, exceptional service and super fast shipping!
Our goal is to satisfy all of our clients and offer new products unique to the market.
If you are not satisfied, simply return or exchange within 14 days.
In the Community - Breast Cancer Awareness
Gorgeous Jewels is a proud supporter of Breast Cancer research. We believe in supporting a national cause for women to 
promote education, awareness and prevention of occurrences globally. 
Ship Direct to Your Home!
Gorgeous Jewels can ship directly to you, family and friends at home or the office. 
This makes holiday and gift shopping easy.
Order today and let Gorgeous Jewels personalize your package for you!
We Offer Exclusive, Proprietary Designs!
​
Our Model..
Unique Product Line
Custom Designs
Innovative
Creativity Based on Your Needs
Committed to Outstanding Service
Serving to the Community
Promoting Breast Cancer Awareness
We give back through Scholarship, Sisterhood & Service
Mobile - We Come to Your City!
IF YOU LOVE #GORGEOUS, PLEASE LIKE US ON FACEBOOK- SHOP GORGEOUS JEWELS!
Thank You for your Support of Gorgeous Jewels!!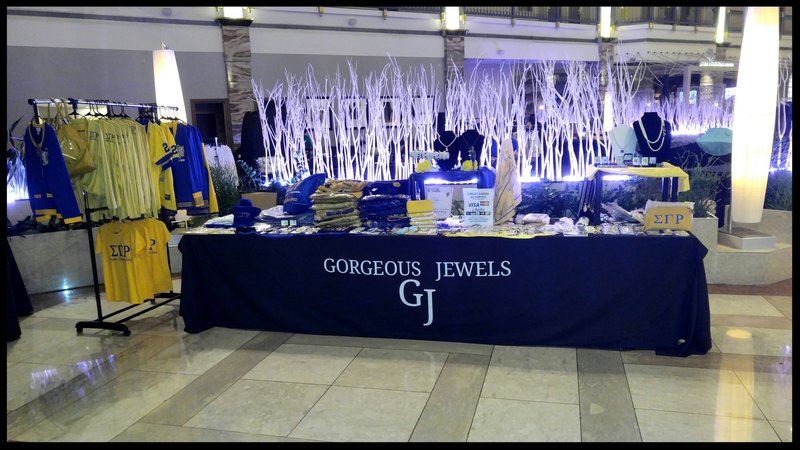 We appreciate Your Business!